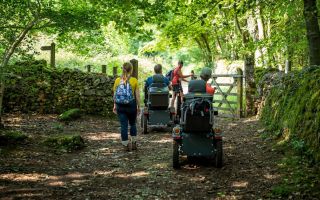 Plan your visit
Explore by Tramper
A Tramper is an all-terrain mobility scooter which can provide a life-changing experience for those that struggle to get outdoors.
You can borrow a Tramper completely FREE of charge from a choice of hire points around Morecambe Bay.
Reserve your Tramper and explore the Bay
Explore by Tramper
What's a Tramper?
A Tramper is an all-terrain mobility scooter which is safe to use on most kinds of rough ground such as stoney tracks or steep woodland trails but also good on pavements and walkways.
Due to their size and stability, a whole range of opportunities to get into the great outdoors with friends and family are waiting to be re-discovered. What's more, they are comfortable, robust and easy to use.
Trampers can be adapted to your size and are capable of carrying a person up to 25st in weight. And if you're feeling particularly adventurous, they're great for climbing slopes and last a long time between charges.
Requirements for hire
The Trampers are FREE to use but it's essential to reserve them in advance. Donations are welcome to help us cover the costs of running this service.
What's the minimum age for hiring the Tramper?
You need to be at least 14 years of age to use a Tramper.
How far in advance do you need to book?
Please give us as much advance notice as possible as we need enough time to notify volunteers to meet and greet you and your party. Ideally at least two week days notice as a minimum and three week days for Sunderland Point.
Please note that booking enquiries made at on Friday evenings and throughout the weekend will not be seen or actioned until the Monday morning.
When you make a booking enquiry online, you will immediately receive a confirmation that we have received your enquiry and a 'booking ticket' from TryBooking (our booking platform). Please wait to here from us directly, confirming that we can meet your request, and naming a volunteer who will meet you at the hire point, before making plans. Please do not travel to the hire point without having received this personal confirmation.
Will someone show me how to operate the Tramper?
You will be greeted at the hire point by a friendly volunteer for a short training session so we can assess your ability to control the vehicle unaided before setting off. This will be more demanding on some routes, so we advise that you check the grade of the route you want to explore.

Reserve your Tramper free of charge
It's easy to book your Tramper by choosing your location and clicking the relevant link below.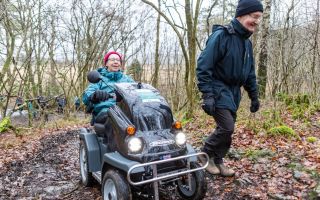 What are the routes like?
We've graded all the accessible routes as easy, moderate or hard according to the terrain, surface and overall level of difficulty for mobility scooters, wheelchairs, Trampers and pushchairs.
Read the route grade descriptions