Walking
Walk Morecambe Bay
From canal and seaside strolls to hilly hikes and stunning viewpoints, there's nothing more invigorating than walking in Morecambe Bay.

Read on to find recommendations on the best walking routes and trails.
Walk Morecambe Bay
From short ambles to multi-day hikes with world renowned art installations, quirky cultural gems and intriguing historic monuments along the way, there are so many reasons to get out and about on foot.

Whether you stroll along the spacious, sandy beaches, limestone headlands, venture through woodland canopies or explore cultural attractions, you'll feel invigorated by all the Bay has to offer whatever your age or level of ability. And if you love wildlife, you can spot rare butterflies and birds on the salt marshes or even seals basking in the sea.
Easy coastal walks in Morecambe Bay
Looking for a gentle seaside stroll? Then look no further. Browse our accessible trails page for suggestions for easy walks in the Bay. We'll be adding more routes so be sure to keep checking back to find more suggestions.
Family-friendly walks
We recognise that walking with children in tow is not always straightforward. Take a look at our family suggestions page for recommendations on where to walk close to family-friendly services and things to do. Our accessible trails section will also tell you which routes are suitable for buggies and prams.
Walks with panoramic viewpoints
Delve into the journey planner and discover our recommended trails which take you to the highest vantage points around the Bay.
And, if you have limited mobility, you can still enjoy getting outdoors by hiring a Tramper free of charge at one of our hire points. We're expanding the network of Trampers and adding more all-ability route guides in the coming weeks and months - keep checking back here to find out what's new.
Cross Bay Walks
Perhaps Morecambe Bay is most famous for the Cross Bay Walk - this is a route which must be undertaken with a guide as the tides are very dangerous. You can book on to one of the walks across the sands of the Bay with the King's Guide and his team keeping you safe on this very special adventure.
Find out more on the King's Guide to the sands website.
Cumbria and Lancashire Coastal Way
These well-known long distance trails pass through Morecambe Bay hugging the coastline as closely as possible. Keep visiting these pages as we'll be adding more information soon.
Top viewpoint walks in Morecambe Bay this winter
We've selected walks that get you to a fantastic viewpoint overlooking the whole of Morecambe Bay that start at a train or bus stop.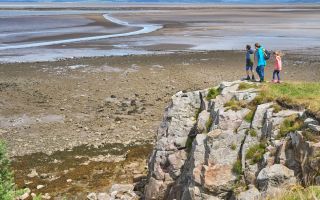 Discover more pre-planned walk routes around the Bay
Find a route with cafes, shops, tourist attractions and lots more
Find more walk routes