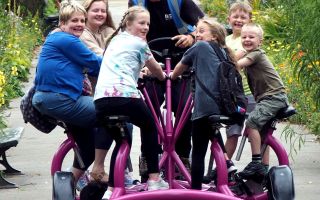 Be Inspired
Get Cycling Morecambe Bay
Over the summer of 2023, we helped hundreds of children and adults to get cycling - either for the first time, or to get them back on their bikes and now, they can all experience the joy and benefits to health that cycling brings.

Read on to find out what we did and how you can get back out on your bike.
Get Cycling Morecambe Bay
Over the summer, we worked with Everybodys Cycling to offer free cycling experiences in Morecambe & Lancaster. 73 bikes were fixed by the Bike Doctor, 830 kids took part in bike try-outs at school and 428 people took part in a weekend of cycling attractions.
Bike Doctor events
Working with a local qualified bike mechanic, no less than 73 bikes were fixed at various local community venues throughout the week.
Among our customers, were hospital staff who needed a cheap and easy way to get to work, young people who had rescued bikes from skips, residents who wanted to get back on their bikes but needed a helping hand to get their cycles safe to use. We also helped a cycle touring couple from Chile who needed to give their bikes a little TLC for the long journey ahead, and new residents from Ukraine and France.
It was practical and easy way to do safety and maintenance checks on bikes for people who may not cycle due to their bike requiring basic repairs.
Our local Bike Doctor provided a free bike health form and recommend local bike shops for any advanced repairs and offered advice on cycling.

Cycling fun activities in schools and at Morecambe Prom.

830 kids took part in bike try-outs at school, and around 428 people came along to Morecambe Prom during a weekend of try-outs and cycling 'attractions'.
The events offered opportunities for everyone to try-out all kinds of different bikes that suited all ages and abilities.
With Everybody's Cycling fleet of unique cycles which included modern miniature penny farthings, tandems, tricycles, KMX karts, eccentric wheeled bikes, children's bikes, we were able to spread the joy of cycling to a as many locals as possible in the area.

In all, 1400 people engaged in these events and we hope everyone enjoyed it - the team here at Morecambe Bay Partnership certainly did.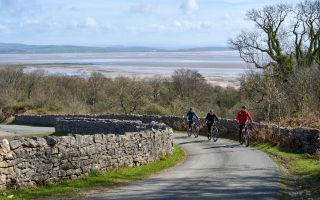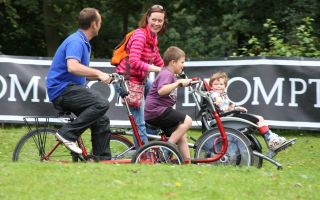 We're working with Everybody's Cycling
Everybody's Cycling is a Community Benefit Society offering a range of fun and practical cycling events, activities and programmes across the UK to encourage everyone to enjoy the benefits of cycling.
Visit the Everybody's Cycling website